NEEDLE LOOM FEHRER NL 2000
5500 mm / needle punching machine
Good / working condition. Producer: FEHRER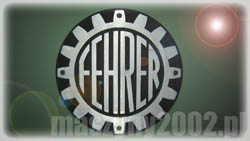 Ask about other needle looms (different dimensions, plate configuration - on request). Also other nonwoven machinery - on request.
Producer: FEHRER, YOC originally 1984

Model: NL 2000. Working width: 5500 mm

Working speed - max 1500 rpm. Normal working speed: 1000 rpm ±200

Number of needles: 5000 /m. Top needling (↓). Two spare needle plates in the set.

Jump / stroke: 60 mm

Winding device with automatic bale's kick off and compensator in the set.
Price - 135.000 euro only; EXW Belgium.
The machine is in good working condition. Worked in Belgium till November 2015. Dismantled by our technicians (help in assembling / running - possible on request).
Well maintained, carefully disassembled. Ready for shipment and new installation.
Any further questions - feel free to ask.

RELATED LINKS / NEWS

Ask for more...

[ top of this site ] [ main page ]


Stan Toczewski
tel.: +48 8888 4 8888 / in English, Polski, Pyccku /
fax: +48 71 765 7 554
POLAND