MELTBLOWN LINE MBL-1600
Brand new machinery, manufactured on request; delivery time - 3 months
High capacity:1200-2000 kg / 24h
Offered is brand new high capacity best quality meltblown line, for production spray-bonded polypropylene high class nonwovens.
Main product's applications: filtration (masks, filter cassettes, filter cartridges, vacuum cleaners' bags, others), genereal medical purposes, agrotextiles, geotextiles / soil stabilization, garments, beddings, shoe making and furniture industry, technical insulations and lots of other applications.
Visualisation: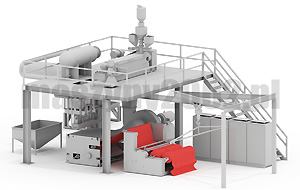 - technical drawing with dimensions.
GENERAL TECHNICAL SPECIFICATION:
Producer: Maszyny2002 / Poland ( http://nonwoven-machinery.eu , http://maszyny2002.pl )

Model / type: MBL-1600

Working width: 1600 mm (after edges cutting)

Installed power: 560 kW

Average working power: 350 kW

Raw material: PP (polypropylene) granulate

Recommended raw material's quality: MFI 1200-1800 g/10min

Grammage range: 15-80 g/m²

Yarn thickness: 2-5 μm

Design efficiency: 1200 - 2000 kg/24h

Average daily (24h) capacity of nonwoven 20-25g: 1200-1500 kg

Design working speed: ≤ 80 m/min

Maximal diameter of winded bale: 800 mm

PP and additives dosing system: automatic suction control device is adopted with 7.5 kW vacuum pump; three-component dosing system (PP + two additives; additions' ratio 0.5 ~ 5%; addition accuracy: ± 2%); pre-drying function to remove moisture from raw material

Extruder: aspect ratio: 30:1, Ø90, maximal capacity: 130 kg/h, rotating speed: 20-75 rpm, main motor: 45 kW, 6 individually heated zones with temperature sensors, heating power: 42 kW, water cooling device to give extra protection of gearing and transmission box from excessive heating

Melt filter with two-positional hydraulic screen exchanger / three layers filters Ø 124mm, mesh size: 40 μm

Metering pump dosing: 50 cm³ / rotation, 2,2 kW

Meltblown spraying head: symetrical and isostatical highly uniform PP spray supply, 18 heating sections, two sets of spinnerets (one working and one spare), spinneret holes diameter: 0,3 mm, spinneret ratio: 12:1

Air heating system: 280 kW

Hot air suppply: double sided, 90 kW

Air suction: 20000-40000 m³/min, 3kPa, 30 kW

Web forming unit: suction system on steel construction, with rail trolley to move the unit easily for meltblown head operations; working speed: 8 - 60 m/min

Spare conveyor belt in offered set

Winding unit: working width: 1800 mm, process speed: 8-60 m/min, maximal diameter of winderd bale: 800 mm, 10 round kvives for longitudinal cutting

Electronic control system: PLC Siemens with touch screen

Worldwide available electrical control main elements: inverters Siemens, applications: Schneider

Spinneret cleaning devices (in the offered set): calcinating furnance Ø600 / 2300 mm (heating: 24 kW, vacuum pump: 4 kW) and ultrasonic water cleaner 3kW

Spare parts set (e.g. 1000 filters, different size heaters, temperature sensors, seals, needles, others)

Spare spinneret and conveyor belt

Warranty: 12 months

Warranty and post-warranty full service; spare parts availability

CE certificate

Technical and technological counseling.

The line makes a best choice at best available price.
Price: € 730.000 only, CIF your closest main sea port.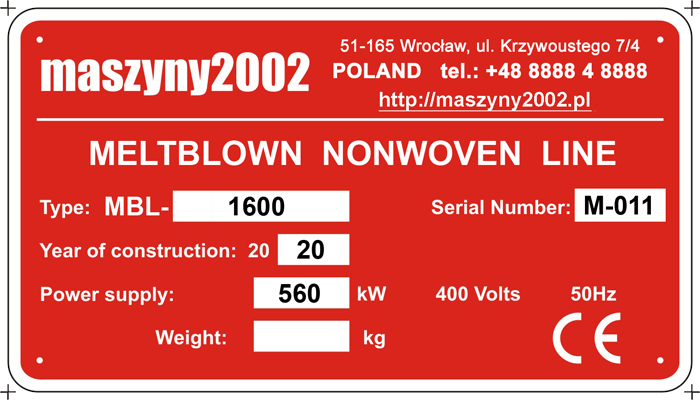 It will be our pleasure to answer your further questions.
Looking for other nonwoven machinery - just contact us freely.

Related links:
http://maszyny2002.pl/spunbond.htm - some basic information about our spunbond lines

- exemplary our spunbond SSS line - some pictures of our SMSM spunbond line

https://maszyny2002.pl/spunbond_options/ - spunbond lines variants

- 1600 mm spunbond line in state of construction - 1000 mm laboratory spunbond line - some our other nonwoven machinery / lines - other nonwoven machinery - other nonwoven machinery - exemplary spunlace line



Stan Toczewski
info@maszyny2002.pl , info@nonwoven-machinery.eu
tel.: +48 8888 4 8888 / in English, Polski, Pyccku /
POLAND