INFRARED OVEN yoc 2015 / 3000 mm
FOR WADDINGS, FELTS and other nonwovens,
with cutting - winding unit.
! SALE OUT € 64.900 only !
[ main page ] [ contact ]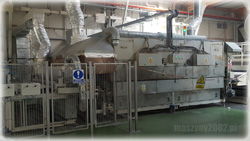 Offered is an electrically heated used machine in very good technical condition. Ordered by a huge company and run in early 2015 as new - for high capacity wadding nonwovem line (up to 1000 kg/h).
Innovative infrared technology makes a possibility of compact (low dimensions) construction and highly reduced real power consumption.
Exchanged into wider oven in January 2018 due to working width increasing.
The oven can be used in wadding or any else nonwoven production. Dismantled in January 2018, now on the store (production hall - in exact):
BASIC TECHNICAL DETAILS:
Installed power: 264 kW. Real working power: 180 kW (can be additionally reduced for less efficient production). 230/400 V, 50 Hz

Target wadding weight: 80 - 800 g/m². Other nonwovens - up to heating / process needs or purpose

Designed for product of width 2800 mm (max 3000 mm) after edges cutting

Oven's inlet width: 3300 mm

Net conveyor's width: 3200 mm

Heating zones width: 3400 mm; left - right correction: 0,5m, adjustable

Heating / drying temperature: 90 - 210˚C. IR controller settings: ± 5˚C

Fluent speed adjustment 6-30 m/min (inverter movimot)

10 infrared (IR) radiating heaters

Dimensions: 10 700 / 5 550 / 3 350 mm

Total weight: 6700 kg

Rollers for nonwoven's height calibration

Air cooling system (nonwovens' cooling: blowing, suction, cooler)

Nonwoven's accumulator for cross cutting time

Cross cutting

Longitudinal cutting (over 10 knives)

Winding unit with belt conveyor; bales up to 120 cm diameter

Electrical control box with comntrol panels / complete set of electrical drive.
OCCASION!: VERY GOOD LOW MILEAGE UNIQUE MACHINE IN UNOQUELY LOW PRICE !
LOCATION: CENTRAL POLAND / airport WRO. Visit possible after appointment.

We stay at your disposal regarding any further questions.
Ask about other nonwoven machines / complete nonwoven lines of any type.

=> RELATED INFORMATION:
Nonwoven machinery (machines and lines) on request:
we produce all kind of nonwoven machinery - from single machines to entire solutions (lines)
LINES FOR WADDINGS, NEEDLE PUNCHED NONWOVENS (FELTS), SPECIALIZED NONWOVENS, SPUNBOND ( 1, 2 ), SPUNLACE, INDIVIDUAL SOLUTIONS...
Ask for more...
Ask for spunbond lines:

[ top of the site ] [ main page ]


Stan Toczewski
tel.: +48 8888 4 8888 / in English, Polski, Pyccku /
fax: +48 71 765 7 554
POLAND