Cheap used WADDING LINE BEFAMA - 1600 MM
Good technical condition. Used line, assembled, working condition; can be run for tests at any time. Occasion.
Used machinery in good / working technical condition. Assembled / connected - remains as it worked in the place it worked. Ready for test runs at any time. Cheap solution for nonwovens' s (wadding) production. Some more pictures below.
Last years the line produced waddings of weight of 100 - 300 g/m2 (probably only 100 g/m2 and 300 g/m2 - due to previous user's order requirements). There were produced nonwovens of width 1600mm. Max possible product' width - 1700 mm. Compact line for low surface requirements, however maintaining the standard quality of the product.
Line's basic elements:
- Carding machine BEFAMA CU612 with balance feeder,
- vertical cross lapper,
- compact IR oven (infrared radiators), manufactured by Grotecht, Poland
- edges cutting and winding section.

1. CARDING MACHINE - Befama CU612, double drum, single doffer, width 1800mm, with balance hopper feeder. Clothings in good condition. Flexible clothing on 2nd drum. The machine is in good working condition, well maintained:


2. VERTICAL CROSS LAPPER
.
Well maintained machine in good technical condition. Compact construction securing relatively low surface requirements: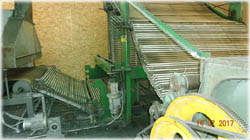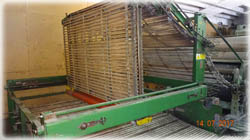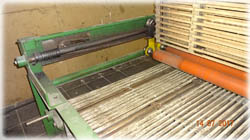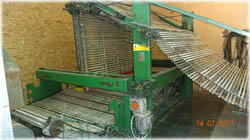 3. THE IR OVEN

-
max 73 kW, one of
Grotecht's
compact IR ovens. Because of compact design and IR radiators, the oven provides best energy saving efficiency along with best heating effects and extraordinarily low space requirements.
The offered line is equipped as well with simple (however sufficient) edges cutting and product winding unit.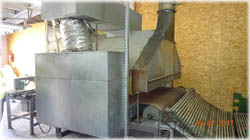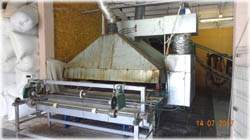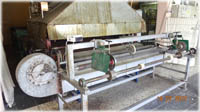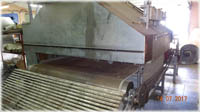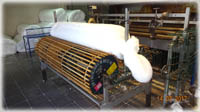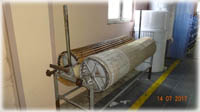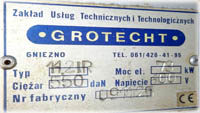 Price : € 38.000 only, EXW
/ Poland
There is recommended to dismantle the line with Buyer's technicians to assemble the machinery in new facility by the same team.
However, it is possible to agree disassembl
ing
with the seller's means (Ma
szyny
2002).

It will be our pleasure to answer your further questions.

Related links:

[ top of the site ] [ main page ]


Stan Toczewski
tel.: +48 8888 4 8888 / in English, Polski, Pyccku /
fax: +48 71 765 7 554
POLAND